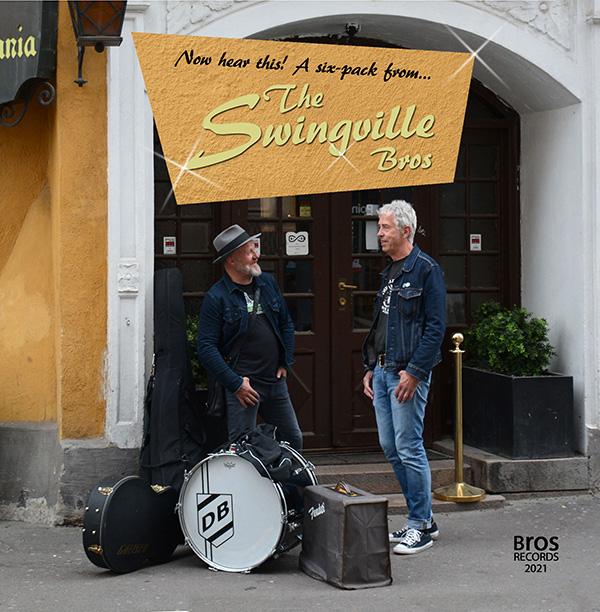 SWINGVILLE BROS
Now Hear This! A Six-pack From…The Swingville Bros
Bros Records
Osloduoen låter som et fullt band selv om de bare er to. Njål Ra skaper et fyldig lydbilde med sin ståbass, mens Dag Bøgeberg trakterer vokal, gitarer og trommer samtidig! ­Utvilsomt en fysisk belastning som kan gå ut over rygg og annet. Disse gutta er veteraner med fortid som musikere med Jydske Rev, ­Krangel, The Houserockers, The Act, Willy B. Review, High River, Los Plantronics, Mason Ruffner, Karin Wright, Martin Caspersn & His Drunken Sailors og The Tempo Toppers.
For åtte år siden ga de ut en 4-spors EP, «Bad Hangover», og i 2018 hadde de med tre låter på «Boppin' Up North vol. 2», en samling med norsk rockabilly. Nå har de vært i studio i Holmestrand og spilt inn seks låter som de har utgitt på det klassiske EP-formatet, som har et hardt billedcover, kommer i sjutommers format og spiller på 45 RPM. Fire av disse kommer fra 50-tallets country/hillbilly bop-tradisjon. Åpningssporet er Jerry Irbys «Nails In My Coffin», også kjent som «Drivin' Nails In My Coffin», og dette låter nærmest som rockabilly honky tonk, om du kan tenke deg noe sånt. Sveinung Lilleheier på steelgitar er gjest på country­låtene, og selv om det låter country, så rocker det likevel. Disse gutta må bare rocke! På Johnny Powers' «Long Blond Hair» og Ronnie Dawsons rå «Up Jumped The Devil», er det ingen tvil. Dette er skikkelig rockabilly!
En six-pack som smaker godt, men som gir deg lyst på mer.